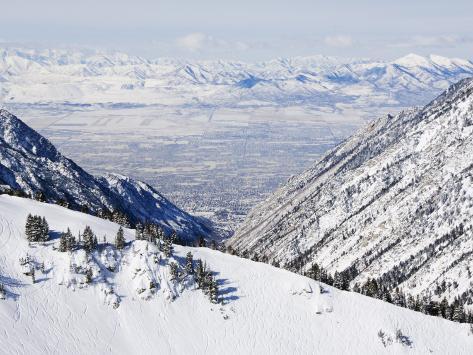 Took a ski trip to Utah this past winter. I was prepared to dislike Salt Lake City, I'd been there years before and found the vibe a little strange. Maybe it was me, I overdosed on religion as a kid and as a result I don't have a lot of tolerance left for disordered thinking of that particular sort. This time around, though, I had an entirely different experience. Maybe the city is changing. Or maybe I've grown up a little bit, although I would not bet the house on that. Anyway, I have to say that I like the town, it's a pretty chill place, nice people, and enough winos around so that I don't have to feel like I'm the only one. I don't drink any more but I don't think my essential nature has changed that much, and if my inner addict chews through the restraints, I'm in big trouble.
My buddy and I skied Alta and Snowbird. It snowed pretty hard both days we were at the 'Bird, but we caught a couple of blue sky days at Alta. Alta is nothing short of spectacular, I went around with my mouth open the whole time I was there, it must be a common reaction because no one offered to call my mother for me. Truly an awe-inspiring place, I had to keep stopping just to take it all in. I have skied California, Nevada, Colorado, most of the northeast, plus Austria and Switzerland, and Alta ain't taking a back seat to anywhere I've been.
If you ever find yourself in SLC, you should check out Cucina Toscana, they are into northern Italian cuisine, nice place, terrific food.
Overheard in the Alta base lodge, two old guys wearing jackets from an 80+ ski club:
Old guy #1: 'Wow, I was right on the edge of it this morning. I think I scared the crap out of myself.'
Old guy #2: 'Yeah, that's why I always wear Depends on ski days.'
Rave on, brothers…